Our Hard Rubbish Removal Process
Using Adelaide Rubbish Removal to help with the waste removal from your home or business is a very simple process.
Get an Estimate
Adelaide Rubbish is the only rubbish removal company that will speak to you directly to give you an accurate pricing
Plan Your Removal
We help you plan your rubbish removal by helping you understand in cubic metres, what will be involved.
Schedule Your removal
Adelaide rubbish then schedule your rubbish removal based on your convenience.
Adelaide's Most Trusted Rubbish Removal
The business has a number of mobile skip bins ranging from 6-25 cubic metres to with standard bin being 13 cubes.Adelaide Rubbish will come your site load the rubbish into our mobile skip bins, then keep going to the next site. All you as the client needs to do is let us know what is going and our team will take care of the rest. There is only a minimum requirement of 2 cubic metres, with no maximum volume. You only pay for the volume removed, not on the skip bin size being used & we collect it from where it is on the property. The service Adelaide Rubbish offers is a cost-effective method of removing rubbish. You do have a skip bin blocking your driveway or damaging your paving. Our teams turn up, load the rubbish into the mobile skip bins and leave. There is also no need to get a council permit. Why not give Clive a call to see how how easy it is. What we take; Green waste removal, Hard Rubbish removal (including tyres & mattresses), General waste, Building waste • E-waste, Pallets ( including oversize), Cardboard, Plastics, Timber, White goods, Paint (invoiced on a litre basis) 
Satisfaction Guaranteed On Rubbish Removal.
See what our clients are saying about us on Google.

Many thanks to Clive and team.
How refreshing to have someone arrive on time, do a good job and clean up. 

I would like to recommend this service, friendly, punctual & efficient, a great experience - Thankyou Clive!

They were friendly and helpful. Gave me good notice when they were coming. Did a great job
Adelaide Rubbish is Adelaide's only hands on rubbish removal business, that when you phone you you talk directly to the owner. We remove rubbish from residential properties, business premises & industrial operations, the business has systems in place to deal with your waste. All rubbish that is removed has a 95% chance of being recycled when it is delivered to the transfer station, guaranteeing that landfill is minimised Regarless if you have a once only collection or calling on a regular basis, no matter which suburb or area of Adelaide you are located Established in 1975, the service has expanded to cater for most forms rubbish servicing all Adelaide suburbs.
Adelaide Rubbish is owned by Clive Sangster, who has been delivering this service for the past 12 years & is the driving force behind delivering exceptionally high standards of service.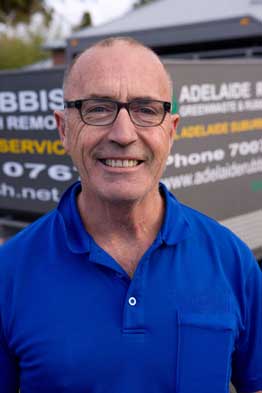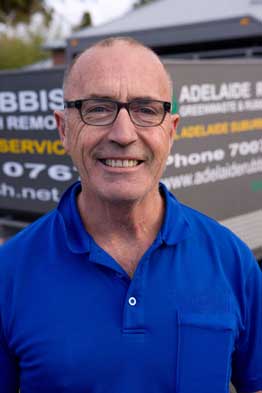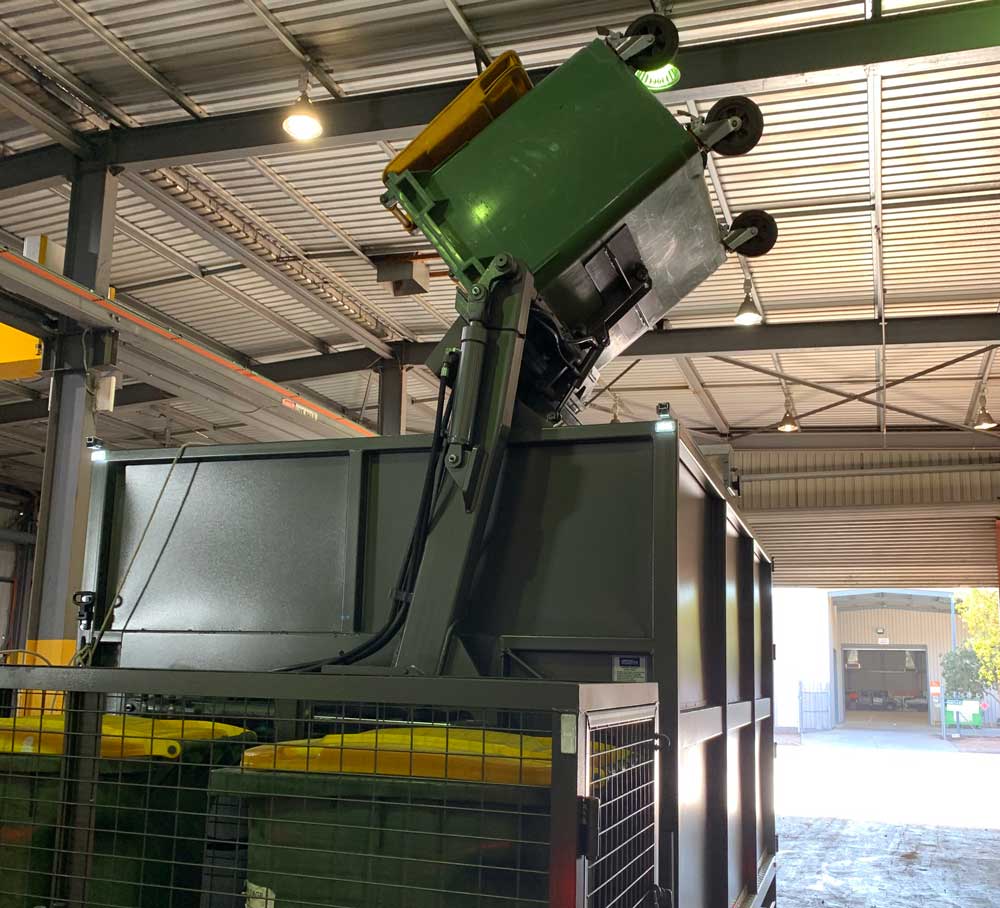 660L Bin
When managing your household waste, it is important to understand how waste collection in Adelaide is managed so you know what can be included in the standard refuse collection provided by the council and what can't.
Adelaide City Council has certain rules and regulations for waste collection in Adelaide – make sure you are fully compliant. Read on for advice.
What are the different bins for?
The red bin is for general household waste that is not organic and cannot be recycled. This includes plastics, cat litter, aluminium foil, used nappies, clothes and polystyrene foam. Waste collection in Adelaide means that this bin is collected weekly.

 
Hard Waste Collection – What is Hard rubbish removal and how do you get rid of it.
We at Adelaide Rubbish pride ourselves in being experts in hard waste collection and removal.
Getting rid of hard waste is more difficult than it sounds. The weekly rubbish pick up won't take it and it is difficult to know where the nearest recycling centre is. You may not even have the right vehicle to transport it. So what do you do? The answer is simple: you hire a company that provides a hard waste collection service.
What is hard rubbish removal?
First of all let's clarify what hard rubbish is exactly. It refers to unwanted items that have certain disposal requirements like white good and mattresses. Certain kinds of garden waste like branches also fall into this category. Usually, when we talk about hard waste collection, it means big, bulky items that are difficult move. Examples include dishwashers, fridges, freezers, washing machines and the like.
Why do these items pose a challenge?
These items pose a challenge because most local authorities only offer one hard waste collection a year. It is hard to believe bit it is true. This means that you cannot dispose of your large items in the normal collection. This means that you need to dispose of hard waste items yourself or make alternative arrangements for hard waste collection.
If there's no hard waste collection, I can do it myself, right?
Yes you can, providing you have a suitable vehicle and are within distance of a recycling center. Not everybody has a truck or trailer to transport such items. Furthermore, it may require several trips depending on how much you need to dispose of. This can be very time consuming and inconvenient. Don't forget that moving large items like fridges and dishwashers can result in injury if you are not familiar with lifting and moving heavy items.
Fortunately, there is an easier way! A hard waste collection service will dispose all of your unwanted hard waste for you.
Hard waste collection or hard rubbish removal service is the easiest option
If you need a hard waste collection service, call Adelaide hard Rubbish removal. We provide reputable and reliable hard waste collection when you want it. We are able to remove those large, bulky items that are difficult to handle. Our experienced staff know how to move them quickly and safely, saving you time and effort. We have state of the art mobile skip bins meaning we can turn up, load up the skip bins and remove your rubbish straight away. It is quick, easy and hassle free. Importantly, it is very affordable because we only charge by the volume taken away so there are no call out charges or hidden fees.
Why make it any more difficult than it needs to be? Save yourself time and effort by calling Adelaide Rubbish for your hard waste collection or hard rubbish removal requirements. Call us today!
Waste Collection Adelaide
The green bin is for organic waste. This is for food remnants, bio-degradable nappies, shredded paper and cardboard, pet droppings and garden waste like leaves, grass and flowers. Waste collection in Adelaide means this bin is collected every two weeks.
What does the council do about hard waste collection in Adelaide?
Hard waste collection covers white goods, garden waste and items that have special disposal requirements like tyres and mattresses. If you have any electronic objects, furniture, scrap metal, timber or kitchen appliances, these cannot be included in the normal waste collection in Adelaide. There is special hard waste collection in Adelaide four times a year.
Isn't this a problem?
The infrequency of hard waste collection in Adelaide creates a lot of problems for people who need to discard their rubbish and cannot wait for the next pickup. If you are moving house, having a clear out or are running a commercial or industrial business, you need a service that suits you. If you simply cannot wait for the council's hard waste collection, you should look at a reputable company to do it for you.
What to look for in a waste collection company
You need a reputable company to provide the best service in waste collection in Adelaide. Adelaide Rubbish provides a modern and effective way of dealing with your refuse by providing mobile skip bins which arrive at your property and load your unwanted items for you. They charge only for the volume and not per day, meaning it is a cost-effective option. All you need to do is show the professionals what you want taken away and they will load the bins and take everything away immediately. This removes the hassle of a having a large traditional skip in your drive way. It is a fast, effective and affordable approach to waste collection in Adelaide.
If you require the top level of waste collection in Adelaide for your home or business, contact Adelaide Rubbish for a competitive quote and arrange a collection at a time that suits you.